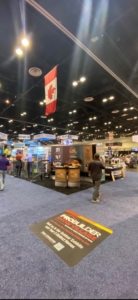 A few comments suggestions and ideas….
Well, that was interesting? I just returned from the International Builders Show IBS in Orlando, and I'm still trying to process my experience. According to show organizers, an estimated 55,000 folks participated at IBS this year. That number seems pretty accurate to me as the trading floor was busy from the moment the show opened and stayed that way for the duration of the 3-day event.
The BC Wood products pavilion was located in the middle of the west hall and provided an excellent location for member companies to meet directly with builders, architects and distributors from across North America, the Caribbean, Latin America and Europe. The event was very good, especially considering concerns with the pandemic, travel and testing and the ever-present dilemma of where and when to wear a mask. As expected, the State of Florida has few if any restrictions around Covid, so it was up to the individual to determine their level of comfort on mask-wearing and social distancing.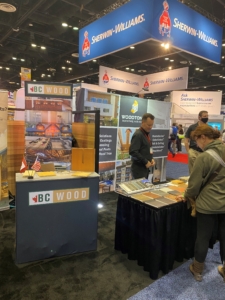 IBS provided a good opportunity to get a sense of what today's builders, architects and distributors are talking about and interested in. There were a few conversations that stand out when it comes to trends and concerns in construction.
The most common question I heard was "is it available?" and "where do I get it?" The issues in the supply chain continue to prove challenging and have made builders wary of working with new suppliers.
Another big concern was the cost. This was especially true for the wood products sector. Builders constantly brought up stories of huge price increases on both structural and appearance-grade wood products. With inflation and the impact on building costs, builders were noticeably concerned about how the procurement of construction materials impacted their bottom line.
Performance and innovation. Wood products that were lower cost or provided superior performance were of considerable interest to the folks that stopped by the pavilion. Engineered wood products including finished and mass timber products like CLT were very popular, as were fire treated and prefinished wood products.
Having participated in the first large trade show in over two years was interesting and upon reflection, oddly satisfying. Meeting with buyers and influencers directly was a nice change from the past few years of zoom calls and online meetings. As we move into the spring, BC Wood has a number of exciting in-person activities for the BC Industry – just remember to bring your mask.