The UBC Centre for Advanced Wood Processing (CAWP) in collaboration with the UBC School of Architecture and Landscape Architecture (SALA) held its inaugural 3-day hands-on Design for Manufacturing and Assembly (DFMA) workshop in early February. This sold out workshops was led by UBC faculty and industry experts from the mass timber design, engineering, fabrication and installation community to discuss lessons learned in mass timber construction. Participants took part in a design/build process and were guided through the process of designing mass-timber projects with the consideration of manufacturing technologies.
One of the key takeaways that were echoed by many of the presenters in this workshop was the importance of front-end collaboration with trades, specifiers, architects and engineers who are required to execute a project. By engaging all the necessary individuals into the conversations early on and drawing on experience, this information can make its way downstream to reduce costs on the installation, increase accuracy, and reduce time and waste throughout the construction process. The technology and innovations used in the DFMA process span the whole cycle of production, from software simulation and manufacturing to site logistics and hardware used in the installation of Mass Timber structures. With new developments in Mass timber there are opportunities for innovation and the biggest impact seems to come from integrating the right people in the process at the right time.
The presentations included lessons learn from structural engineers, software developers, installers and architects about how projects went well, and how they didn't. They described how they were able to overcome unique challenges faced in the projects they worked on by working with others to integrate collective knowledge and apply hardware, software and material-based technologies available to them to realize a solution.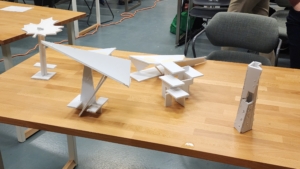 AnnaLisa Meyboom stated that "Building performance is the driving the need for innovations in building technology and construction methods." Timber building and the methods of manufacture and design is a new landscape for process innovation and can enable us to reach performance targets. "Team development throughout engaging with timber buildings leads to a developed workflow between different types of contributors and more efficiencies in the process." As this emerging industry grows, so does the knowledge of people within it who have gained hands-on experience working to integrate Mass Timber into construction. The industry in North America is young and new types of workers and skills are required to be trained and integrated into firms to build with Mass Timber.
Participants got to experience hands-on the process of building a structure using 2 panels of CLT, working from paper modelling to software, then to the Hundegger to manufacture the parts. To conclude, the group came together to build the structure and complete their experience in this workshop. The diversity of participants showed up in the sharing and questions that were asked during the workshop as each one brought their questions and experiences to the group. New connections were made, knowledge was taken in and we are excited to see how this experience will have an impact downstream for the firms and individuals who participated.
Want to attend the next DfMA workshop? UBC CAWP already has a waitlist and is planning for another session. Please email Jason Chiu at jason.chiu@ubc.ca to notified on the next workshop schedule.