JC Lee, BC Wood's Korean representative, had a meeting with the Korea Wood Association on June 9th. The KWA's Chairman Lee Un-Wook, Executive Director Lee Jang-Sung, and the rest of the management team were keen to learn about this year's Global Buyers Mission. Therefore, JC explained the details of the GBM and asked them to help recruit the members of the Korea Wood Association for the Whistler event.
Mr Lee Un-Wook said, "We hope to continue to work closely with BC Wood in Canada to share information about the wood industry in Korea and Canada, and that many members of the Korea Wood Association will participate in BC Wood's 20th anniversary Global Buyers Mission 2023."
The Korea Wood Association, which celebrated its 15th anniversary after being founded in 2008, has about 150 member companies. About 60% of these companies are wood processors and the other 40% are engaged in the distribution of wood products.
The chairman of the Korea Wood Association has been working in the wood industry for 44 years and is the founder of Wonchang Co., Ltd., which was founded in 1995.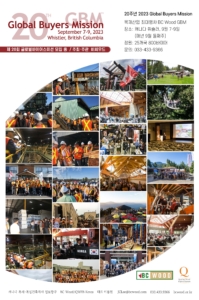 For more information about this event and the Korean market, please contact JC Lee of the BC Wood Korean Office at JCLee@bcwood.com