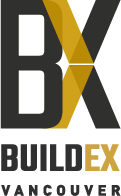 Join us in person at BUILDEX VANCOUVER at the Vancouver Convention Centre West, March 23-24, 2022. Exhibit your booth within the featured BC Wood Pavilion and Wood Products Showcase.
BUILDEX VANCOUVER is the largest building industry trade show in Western Canada – features products, services, and technologies relevant to those designing, building, and managing real estate of all kinds. The audience includes Architects, Designers, Engineers, Construction Managers, Contractors, Developers, Property Managers, and Industry professionals. The 2022 show will see new and innovative products for the built environment, diverse speakers and continuing education seminars, installations focused on the future of design and construction, industry networking and meaningful dialogue, an enhanced online experience, safe and secure face-to-face event, and a reconnection experience.
The event will be organized in accordance with official government and local authority guidelines, as well as any venue or location-specific regulations. BUILDEX Vancouver aims to deliver the highest levels of hygiene and safety, providing the community reassurance and confidence that they are participating in a controlled environment.
BC Wood member cost:SINGLE BOOTH – 10' x10' space – $2,750 (includes electrical and carpet)