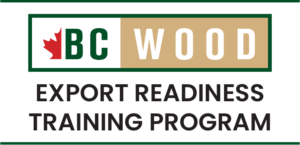 BC Wood is pleased to announce the commencement of the 2020-21 new Export Readiness Training Program (ERTP). This program is sponsored by BC Wood with the primary objective of assisting BC companies to profitably increase export sales and diversify markets of value-added wood products across targeted markets in the Western United States, Japan and Korea, through newly developed export readiness training.
The broad scope of the ERTP will be wholly conducted in a virtual format, allowing industry participation from across the province. It will include a minimum of 9 interactive live webinar workshops on various topics designed to get you ready for export market sales and development, plus an opportunity for one-on-one export sales training and mentoring. The ERTP 2020-21 will be provided to all companies in the province interested in learning hands-on skills to get you launched in a new market.
The ERTP 2020-21 will launch an introductory overview seminar on the new export readiness training program the week of October 25th, 2020 with programs running through until March 2021.
If you have any questions, please feel free to contact me directly by email or telephone at BC Wood. bhawrysh@bcwood.com or call Brian at 604-312-3388.