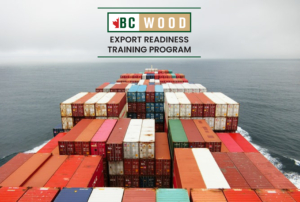 With in-person visits and tradeshows for promoting your products at a minimum, it is more important than ever to find ways to grow your sales. If you are interested in how to profitably increase export sales and diversify markets for your value-added wood products, you should join us on June 29th for the first session of our latest cohort. Following modules occur at one-week intervals and will be completed on August 24th, 2021.
The Export Readiness Training Program is an in-depth webinar based 9-module program, developed specifically for Canada's wood products industry, that will guide participants through the complete process of exporting. At just $29 per session or $180 for all 9, this is a minor investment with guarantee of major return!
Delivered with input from industry members representing each wood product sector, you will learn what it takes to succeed – and how to avoid pitfalls.
Fees include presentation slides and module recordings, as well as follow-up links and information to help you get the most out of your participation.
For more information and to register, click here. You can also call Randi Walker at 1-604-309-6683.