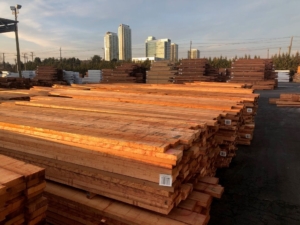 Founded in 1994 Fraserview Cedar has quickly grown to become a premier producer and distributor of lumber products globally. Fraserview specializes in Western Red Cedar, Yellow Cedar and Douglas fir forest products. Their primary product lines include a variety of boards, rough dimension, decking, timbers, export clears, fencing and siding. Fraserview Cedar's commitment, experience, and ingenuity in sawmilling and re-manufacturing sets them apart from the competition. Log breakdown and lumber remanufacturing is conducted in innovative ways to maximize recovery while creating minimal waste and adding value. Their annual log and lumber production capacity exceeds 80 million board feet.
From its humble beginnings in Surrey, BC, Fraserview has developed into a vertically integrated company. They currently operate two remanufacturing plants and seven distribution facilities across Canada. Fraserview's original plant is located in Surrey BC and the Gillwood Remanufacturing facility is in Chilliwack. Gillfor distribution operates nationally with branches in Calgary AB, Edmonton AB, Winnipeg MD. Woodstock PM, Kemptville ON and Fredericton NB.
Throughout their 26 years in operation, they have maintained their principles of caring for their employees and ensuring meaningful and strong relationships with their clients and vendors.
To learn more about Fraserview Cedar and the Gillfor Group of companies, please contact Ajit Gill at ajitg@fraserviewcedar.com or Jim Brindle at jimb@fraserviewcedar.com, please visit us at fraserviewcedar.com & https://gillfor.com and please follow us on LinkedIn.