One of BC Wood's main strategies to grow the market opportunities for Canadian wood products in Asia has been to pursue the growing Japanese and Korean resort markets. As a part of our targeted outreach, we have been in contact with many developers who in turn told us that they were very interested in learning how Canada has been able to produce so many of the world's top resorts. In particular, developers and local governments were very interested in learning how Whistler became the most successful all-season resort in the world. Such conversations made us realize that if BC Wood could provide quality education on resort planning and development along with wooden architectural expertise, we would be able to reach a new audience that had the power to specify wood products in hospitality related facilities.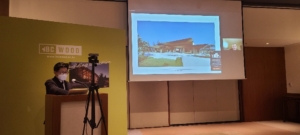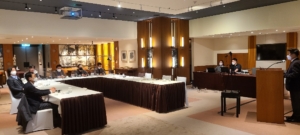 For these reasons, in early 2020 BC Wood delivered its first series of technical seminars on developing all-season resorts using successful Canadian resorts as examples. Despite COVID-19 taking hold at that time, we were able to successfully deliver two in-person seminars in Korea and three across Japan. The overwhelmingly positive feedback from those participants led us to continue with the technical training for the 2020-21 fiscal year. Unfortunately, the COVID-19 situation continues to impact all of our activities and we therefore could not deliver an in-person caravan seminar series as we had originally proposed.
The biggest issue was that countries had closed its borders to foreigners, so it was not possible to bring over Canadian speakers to do a caravan style series. Initially, we considered a simple online alternative, but in talking to Japanese stakeholders and seeing how other groups here had already moved back to in-person events we realized that an online only format would not be attractive to our target audience. We thus came up with a hybrid model where we had the Canadian experts give their talks online through the Zoom Webinar platform, but we still created in-person venues for participants to attend. Those who were comfortable coming to such an event could come while everyone also had the option of joining through Zoom remotely. The hotel meeting rooms also became our broadcast studios so that we could offer a much more professional looking webinar.
Like last year, we had proposed bringing two speakers into the markets, but by presenting through the Zoom Webinar platform we were able to expand the content of our seminar series. In Japan, this also allowed us to have different content at each of the three venues (Tokyo, Nagano, and Karuizawa) meaning our seminar series actually became a three-day technical conference that offered a total of 7.5 hours of original educational content. Similarly in Korea, we offered different content on two days for a total of 5 educational hours. The first day focused on heavy timber structures and the second day's topic was resort related mass timber structures.
We spent many months over the winter talking to Japanese Destination Management Organizations (DMOs) and government officials to better understand their needs. Through this process and extensive market research we learned that there were three core areas that Japanese resorts are targeting: agritourism, adventure or "green season" tourism, and MICE (meetings, incentives, conferences, and exhibitions). We therefore redeveloped our curriculum so that each day's seminar would tackle one of these themes with both architectural/engineering knowhow related to wood buildings for each segment as well as the business case studies on how Canada has developed successful resorts targeting those segments with wood playing a key role in those strategies.
The feedback we received from the DMOs, government agencies, and developers on the breadth of this content was overwhelmingly positive. Several developers commented after the seminars that even though they had thought about using wood in future projects to better match the natural surroundings, local general contractors and architects would dissuade them over durability and cost concerns. Our seminars opened their eyes to the ways designing for durability could mitigate issues while any additional costs could be justified as a part of a business model that leveraged both the beauty and the environmental benefits of wood in attracting and retaining higher margin clientele.
Especially considering the new, high value targets such as resort owners/developers and key government officials that we were able to attract, we felt that we had achieved our objectives for this year's seminars even under the difficult COVID-19 circumstances. In fact, two major hotel groups have already begun consulting with us on how to use wood in proposed projects. Trying this hybrid delivery approach for the first time was also a tremendous learning experience for us. We except to use this model for a variety of programs in the 2021-22 fiscal year.
Overall, this year's resort training program was a tremendous success and we are very proud of the results. The BC Wood Japan and Korea Offices will be following up with all of the contacts made through this project to offer them further resources to support their pursuit of designing their future projects in wood. We also look forward to building on this year's seminars with an even more refined curriculum in the new fiscal year.