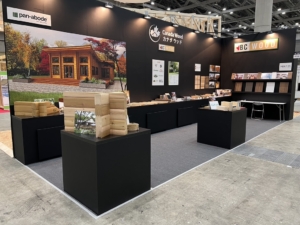 From November 17th to 19th BC Wood was back at Tokyo's Big Sight to exhibit at this year's Japan Home & Building Show. This has traditionally been our largest event in the market with many members making the trip over to take part. Unfortunately, Japan did not open its borders to foreign business people early enough to allow for such in-person participation this year. For this reason, BC Wood once again deployed a hybrid approach allowing members to still develop business leads at this major industry event.
Since October Japan has been fortunate to have been able to maintain very few new COVID-19 infections, averaging only 150 a day for a country of 125 million. For this reason, I had been very optimistic that the show would see big crowds again. Unfortunately, we did not see such a return to pre-pandemic attendance and there were many theories why, including the fact that with all business restrictions having been lifted around that time people were too busy rushing to meet with customers that they had not been able to visit in the past year and a half.
Despite the lower-than-expected number of visitors, the people who did come were serious. Last year, visitors would come, grab information, and try to move as quickly as possible, obviously in an attempt to reduce their time spent at the show and thus minimizing exposure. This time the customers who came to our booth were relaxed, asked many questions, and spent time giving us detailed inquiries. For new sales leads, this was by far the best show we have had since the pandemic began.
The hybrid system we developed to promote participating members products was also very effective this time. With actual product samples from members in our pavilion and enough staff hired to handle the flow of traffic, we were able to generate a great number of actual inquiries as well as new contacts. This system worked so well that we will again offer it to members at the Nikkei Architectural and Construction Materials show in March.
I had actually hoped to have members come to Tokyo for that show as the government did open the borders to business travellers in November. The omicron variant unfortunately slammed those doors shut again. The restrictions on foreign travellers are officially in-place only until the end of December, but as Canada and other countries are now also trying to restrict international travel it seems unlikely that Japan will open up within the next few weeks. However, the Japanese business lobby and the government itself seems determined to re-establish international business travel as soon as possible. Even if that is not implemented in time for the Nikkei Show, BC Wood's Japan Office will be ready once again to support our members' marketing efforts with our hybrid approach.
For more information on Japan's new entry system or the upcoming Nikkei Show in March, please contact Jim Ivanoff at ivanoff@bcwood.jp.