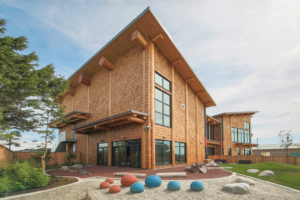 BC Wood was fortunate to have the opportunity to join a tour of the recently completed Tsawwassen First Nation Youth Centre organized by Dürfeld Log & Timber. The 2-storey, 12 000 sq. ft. Youth Centre utilizes various materials, while prominently displaying the use of both heavy log and DLT components
The architecture and design of the Youth Centre highlights the cultural values of the Tsawwassen First Nation and showcases it in a way that can be enjoyed by everyone. One major component of the project was to integrate cultural and historical meaning and art into different building elements and design. An example of this is how the project displays the importance of cedar to the Tsawwassen First Nation. Since time immemorial, Coast Salish Peoples lived so well and for so long using almost exclusively the materials of their environment. Today, teachings are being brought back and revived with the re-emergence of new art forms. Cedar is often central to those art forms, being used to create Longhouses, canoes, house posts, weavings and now being used to create Tsawwassen First Nation's, state of the art, Youth Centre.
Dürfeld Log & Timber got involved in 2019 through project architect and previous collaborator, Dr. Nancy Mackin, with on-site assembly starting in 2020. Using Western Red Cedar and showcasing the natural freeform of these magnificent trees was an important factor of the project, and Dürfeld worked closely with the engineers and building team to create an interface that meets structural requirements while still showcasing the beautiful wood components.
The Tsawwassen First Nation Youth Centre provides a safe environment for young people to participate in various activities. A big component of creating this welcoming environment is the focus on exposed wood. Theround cedar logs mixed with the dowel laminated panels, create a beautiful, warm, inviting space to be in for all to enjoy. The Youth Centre also includes an outdoor skateboard park, music room, in-door basketball court, and computer room. To see more about the Tsawwassen First Nation Youth Centre you can watch this video from the grand opening ceremony. To see a time-lapse video of the construction of the building, click here.