Meike Siegner & Jaime Millan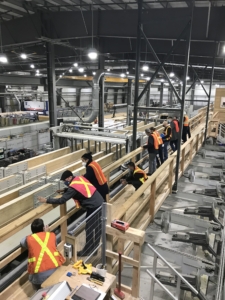 While CAWP has led tours to Europe for more than a decade, the 2021 event summoned forest sector and construction professionals, specifiers, and researchers to tour leaders in mass timber components and prefabricated building systems across the Province. As Jason Chiu, Managing Director of CAWP and tour organizer, enthusiastically remarked to the group: "We don't need to travel elsewhere to see mass timber and prefabrication in action. Everything can be experienced in our own backyard in BC".
Demand for engineered wood products continues to spike, undisrupted by pandemic events and record-high lumber prices. In 2020, the global market for cross laminated timber (CLT) alone exceeded US$1 Billion, a value that is expected to triple by 2027. While Europe still accounts for the majority of CLT output volume and production capacity, North America is quickly catching up – and that's good news for the economy and the environment! The tour showcased how BC-timber building companies push the envelope in manufacturing and design to support the shift toward greater speed, efficiency, cost-savings, and much needed carbon emission reductions in construction.
Local material supply and production
Visible throughout the tour were efforts by mass timber and specialty wood products manufacturers to source materials from the region. This includes efforts by Structurlam to procure steel components locally from suppliers in the Okanagan, and efforts by DaiZen Joinery and Spearhead to partner with regional log and timber suppliers for its premanufactured and custom-made components. This helps cut carbon emissions from import activities and transportation and creates local economies around an industry that has high growth potential in North America.
Kalesnikoff Lumber, a recipient of the 2021 BC Family Enterprise of the Year award, draws from decades of experience managing woodlands and manufacturing sawmill products, with mass timber being the latest addition to its operations in the Lower Kootenays. Vertically integrated operations of the kind championed by Kalesnikoff offer a number of environmental benefits, including cutting emissions in raw-material supply, and optimizing recovery of waste through the whole cycle of timber harvest, milling, and manufacturing.
Waste management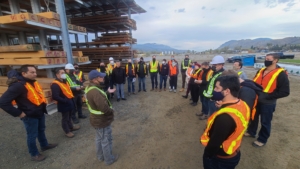 Practically all the companies toured during the week demonstrated significant efforts to repurpose residual fibre and wood waste for sales and on-site heating. This includes practices by Kalesnikoff and DaiZen Joinery to use sawdust briquettes and wood chips to power production facilities, Nicola Logworks selling residual shaving as animal bedstock, and Structurlams plans to utilize and market waste from their production as biofuels in its first U.S. mass timber plant in Conway, Ark. The degree of waste utilization showcased during the tour demonstrated a strong commitment among BC-based timber building manufacturers to place sustainability central in material sourcing, production, and resource recovery.
Optimizing for quality, price, and sustainability
A true highlight of the tour was to observe how BC's mass timber and prefabricated building industry pioneers usage of manufacturing technology and software to increase efficiency, quality and environmental performance. Frontrunners of BC's original mass timber industry, such as Nicola Logworks, demonstrated how quality custom-products can reach markets from small-scale production sites, often using a single process, or a unique technological application. The group was impressed with "Abby" the robot that represents the successful pairing of traditional woodworking know-how and technological innovation in the company, allowing for increased precision and speed.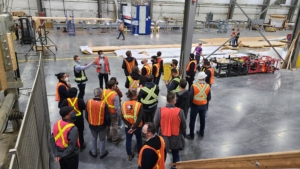 In Mitsui Homes, the group witnessed use of slab scanning technology to ensure on-site fit between prefabricated panelized wall systems and concrete slabs, which enhances precision and reduces the risk for on-site surprises, rework, and costly delays. Similarly, Nicola Logworks, Daizen, Kalesnikoff, Spearhead and Structurlam all made use of scanning technology to purposefully select timber for structural performance, aesthetics, and optimal machine processing, allowing them to deliver high quality products, while saving costs and reducing waste.
Aside from scanning, most of the companies leveraged 3D modelling software to digitally simulate their built environment projects for accuracy and fit, prior to fabrication. Like the old adage says, "measure twice, cut once", use of 3D modelling software can help prevent in-the-field issues and delays, enhances precision, and progressively shifts employee involvement in production from manual labor to machine supervision. Traditional craftsmanship and cutting edge software are evolving to become an intertwined system that is here to stay and will continue to evolve into a seamless systems that helps minimize time and money for all project stakeholders.
All in all, there was much to learn during the 4-day tour ,and there is even more to look forward to as the wood building industry continues to develop, stimulating the economy in BCs' forest communities, and offering a real opportunity to leverage one of Canada's most abundant and well-kept resources: timber from sustainably managed forests.
About the Author's:
Meike Siegner is a postdoctoral researcher in Sustainable Business and Material Innovation in the Built Environment at Ryerson University. Meike holds a PhD in forest sector sustainability from UBC Faculty of Forestry. She conducts research on business strategies and circular economy in the mass timber industries.
Jaime Millan is a Technical Project Specialist at Soukup America. Jaime holds a B.Sc. in Wood Products Processing from the UBC Faculty of Forestry. He collaborates with off-site builders across North America developing manufacturing solutions and production systems for the prefabricated construction industry.