The 16th Annual Global Buyers Mission held September 11th to 13th, 2019 welcomed over 700 delegates from all over the world to Whistler, BC Canada this year. Given the economic challenges faced by many international markets, we were extremely pleased with the efforts made by those buyers and suppliers that supported and participated in the 2019 GBM.
Many thanks must also go to our funding Partners, who without their continued support, we would not be able to deliver this world-class event: Natural Resources Canada Expanding Market Opportunities Program (EMO), Forestry Innovation Investment Ltd. (FII), Alberta Government and Global Affairs Canada (GAC). Our Corporate Sponsors this year included The San Group Ltd., The Waldun Group, Interfor, Glandell Enterprises, PPG, BFL Insurance, BMO Nesbitt Burns and RBC. Thanks also to our Golf sponsors this year Channel-X, Olympic Industries and the Sansin Group.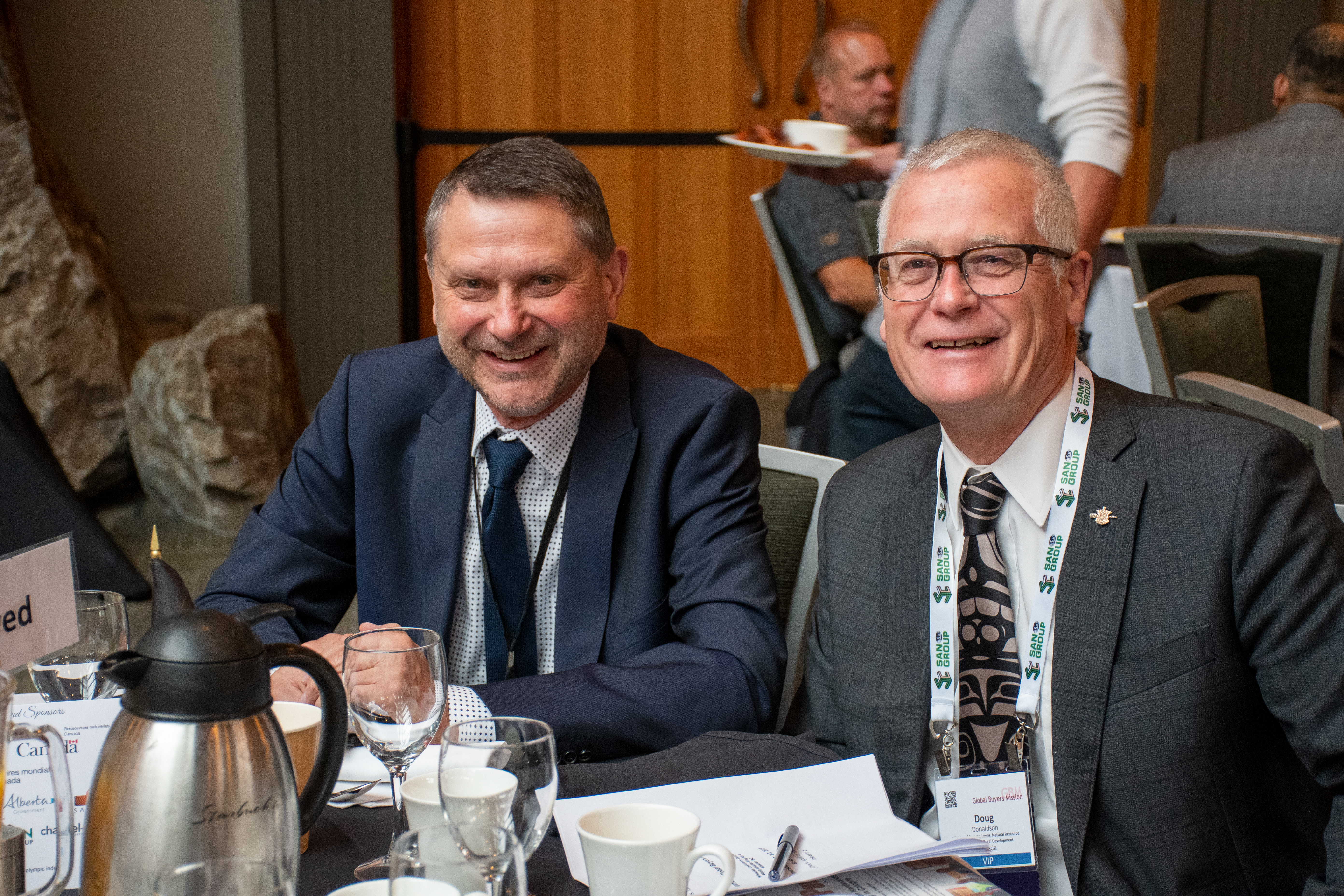 CEO Brian Hawrysh and Board Chairman Greg Stewart from Sinclar Group welcomed our Opening Ceremony guest speaker, the Honourable Doug Donaldson, Minister of Forests, Lands and Natural Resource Operations, and Rural Development, and welcomed Honourable George Chow, Minister of Jobs, Trade and Technology, GoBC. Minister Donaldson officially opened our 16th Annual GBM.
This year, we registered international buyers from Australia, Belgium, China, India, Japan, Korea, Mexico, Netherlands, Pakistan, Poland, Taiwan, Thailand and the United States . Again, many thanks must go to the Federal Trade Commissioner Service and BC's Trade & Investment Representatives from international markets that greatly assisted with the buyer recruiting this year. With their continued dedication, there were many first-time buyers to the GBM, offering opportunities for Canadian manufacturers to develop new business.
New sales for Canadian wood products manufacturers are estimated to be more than $30,000,000 from the GBM this year.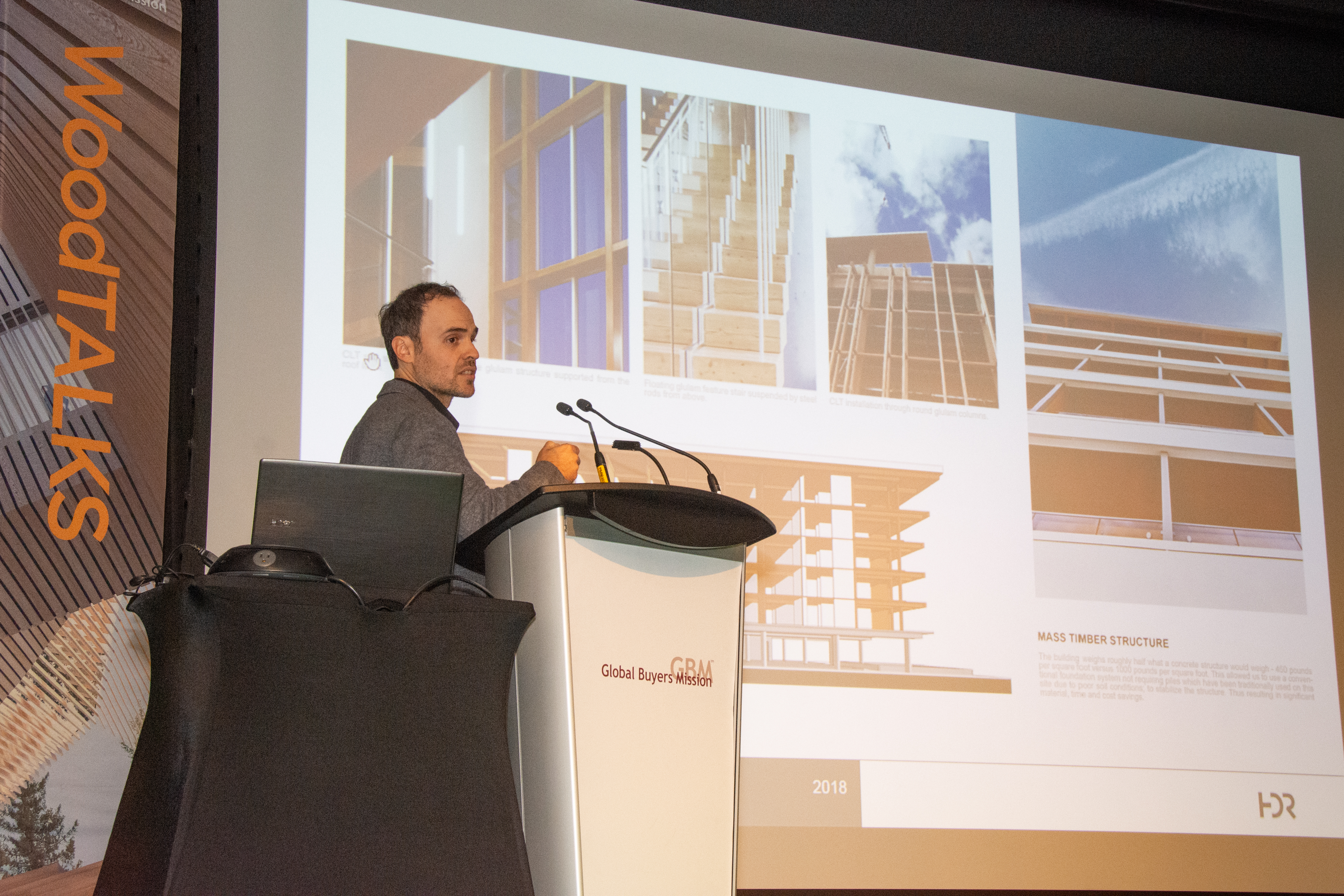 We also hosted North American architects, designers, contractors, developers, engineers and specifiers to our WoodTALKS™ program, held in conjunction with the GBM. This included successful presentations by renowned architects; a mini-seminar series on the tradeshow floor Thursday afternoon and a choice of two site tours on Friday. These activities were very well received by both the architect community and participating exhibitors.
Canadian products on display from across the country included timber frame structures, engineered wood products, treated lumber, reclaimed wood, cabinetry, building products and systems, Western Red Cedar products, furniture and sculptures, and a variety of other value-added wood building products.
BC Wood also organizes Extended Mission programs for incoming international delegates that include site visits and factory tours. This year, pre-qualified Buyers toured production facilities and new project sites in the lower mainland to meet participating GBM manufacturers. Besides helping buyers immediately source high quality, innovative, and competitively priced wood products, the tours helped build future business relationships by familiarizing potential customers with Western Canada's wood species. We thank the many local companies that made the effort to open their mills and plants for these informative and productive tours.
Held at the Whistler Conference Centre, the GBM continues to be Canada's largest event dedicated to promoting value-added wood producers.
The next GBM is scheduled for Whistler, September 10th to 12th, 2020.