2022 WOODTALKS™ AT THE GBM
MANUFACTURER & SPECI

FIER COLLA

BORATION SERIES
BC Wood will be hosting the 19th Annual Global Buyer's Mission (GBM), September 8th to 10th, featuring WoodTALKS, designed to enlighten, inform and inspire on the use of wood in design and construction. This accredited live event, presented by BC's wood industry suppliers and partners, will explore current Architectural projects and Manufacturing Advancements.
Registration is now open, with early bird incentives (early bird discount available until Aug 1)! If you have any questions about WoodTALKS at the GBM, please email gbm@bcwood.com.
The $325 (+

tax) C

AD registration fee includes:
Up to 7.5 Learning Hour credits for participation in WoodTALKS seminars and site tour
Complimentary shuttle service from Vancouver Airport or Downtown Vancouver to Whistler with Skylynx. Complimentary scheduled charter bus service from Whistler to Downtown Vancouver or Vancouver Airport
Meals and Receptions – Sept 8th welcome reception at the Roundhouse Lodge on the Peak of Whistler Mountain; Sept 9th breakfast buffet, show floor lunch, and evening reception dinner: Sept 10th breakfast-to-go
We have negotiated excellent hotel rates for our delegates in Whistler Village.
PROPOSED SCHEDULE OF EVENTS:
*Please note there is a program change this year: registration is now at 8 AM with the continental breakfast, and the WoodTALKS program and seminars start at 9 AM sharp in the Rainbow Theatre at Whistler Conference Center.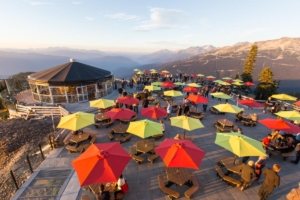 Thursday September 8th
Whistler Conference Centre Foyer
8:00 AM: Registration Opens

Rainbow Theatre, Whistler Conference Centre

9:00 AM – 10:00 AM:

Authentically Beautiful Timber Projects in Residential and Commercial Applications1 (1 learning hour)

10:15 AM – 11:15 AM:

Integration of Mass Timber and Heavy Timber (1 learning hour)

11:30 AM – 12:30AM:

Synergies Between Residential & Commercial Construction Utilizing Heavy Timber And Mass Timber: 2 Case Studies (1 learning hour)
Garibaldi Room, Whistler Conference Centre
12:30 PM – 1:30 PM: Buffet Lunch, Valley Foyer

12:45 PM – 1:30 PM Lunch & Learn:

Creating the Dream Team (design-architect-manufacturer-builder) for outstanding projects (1 learning hour)
Site Tour, by Charter Bus Whistler-Pemberton *Charter Bus Leaves at 1:45 PM from Rainbow Theatre Exit)
1:45 PM – 4:15 PM:

Expansion Site Tour of BC Passive House -BCPH (1.5 learning hours)
Roundhouse Lodge, Peak of Whistler Mountain
6:00 PM – 9:00 PM: Welcome Reception
Friday, September 9th
Whistler Conference Centre Foyer
8:00 AM – 9:00 AM: Breakfast & Grand Opening Ceremony
Whistler Conference Centre Ballroom
9:00 AM – 3:00 PM: Annual GBM & Networking Trade Show

10:00 AM – 3:00 PM:

WOODTALKS: Designing and Specifying Wood Products and Systems from B.C.'s Value-added Wood Industry Mini-Talks Series (13 x 15-minute presentations. Attend at least 6 for 2 learning hours)

12:00 – 12:35 PM: Grab-A-Lunch served on the Show Floor
Squamish Lil'wat Cultural Centre
6:30 PM – 10:00 PM: GBM Evening Networking Dinner/Reception
Saturday, September 10th
8:00 AM – 9:30AM Breakfast-to-go from Whistler Conference Centre Grand Foyer

9:30 AM – 10:30 PM

Charter bus shuttles to downtown Vancouver and Vancouver Airport (booked through Skylynx, please contact gbm@bcwood.com if you require a ticket)
Cost: $325 CAD for full event